After an extended hiatus, your Errant Balls are ready to make their triumphant return. To my loyal readers, I sincerely apologize for any inconvenience or displeasure this may have cost the four of you. It was never my intention to alienate my loyal base, but when it comes down to it there are just a few things that can get in the way of blogging mostly drunken, while sometimes slightly humorous weekly articles completely absent of progress or profit. But I digress.
What's important is that Errant Balls is back, and just in time to fill you in on my generally heinous, yet not entirely impossible predictions for the 2009 NFL season... Enjoy!
- The Jets new hotshot rookie quarterback will cost Chris Berman a hefty fine from the FCC when the ESPN host refers to him as Mark "Dirty" Sanchez in his week 3 highlights.
- Chargers linebacker Shawne Merriman will avoid further trouble when he explains his
little domestic mishap
wasn't meant to be a violent act, but was in fact a social commentary on the sad state of today's entertainment industry... then, God willing, he will find Tila Tequila and finish the job.
- In an effort to make light of their reputation for trouble with the law, the Cincinnati Bengals will take a page out of the
1985 Bears book
and create a hit rap video known as "The Shawshank Shuffle."
- Raiders owner Al Davis will once again make headlines when he trades Oakland's 2011 and 2012 first round picks to the Patriots for the heart of a ritually sacrificed Himalayan mountain goat.
- The Philadelphia Eagles will enjoy a dominant season thanks to their offseason acquisition of the dynamic Michael Vick, who will run the "Wildcat" offense flawlessly, as though he has already had years of experience as the general in charge of an organized, yet chaotic, animal-centric scheme.
- Rookie quarterback Matthew Stafford will struggle mightily after being handed the keys to run the Detroit Lions. He will avoid harsh scrutiny however, when it is pointed out that the Lions were assembled by General Motors.
- The Colts will draw an unusual amount of delay of game penalties, when super pitchman Peyton Manning tries to maximize his profits by squeezing live endorsements in between audibles at the line of scrimmage.
- Much maligned Tennessee Titan Vince Young's mental stability and quarterbacking ability will once again be called into question when he throws himself off a highway overpass, only to be intercepted by a pickup truck full of packing peanuts passing below.
- Cowboys owner Jerry Jones will suffer his second public embarrassment in the new Cowboy Stadium, when a week six shot of him on his tremendous, but too-low jumbotron reveals he jots his game notes down in a Hello Kitty spiral notebook.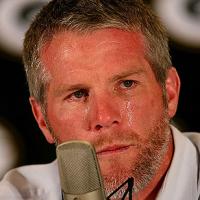 - The Minnesota Viking's signing of fickle QB Brett Favre will eventually backfire, when a devastated Favre leaves the team at mid-season upon realizing the artificial turf in the Metrodome is completely un-mowable.